COMMAND CENTER NTCIP:
Control your Boards from your Desktop or Mobile Device
Command Center is the ultimate tool for traffic safety equipment fleet management. With Command Center, you can manage, monitor and segment your fleet from your office computer (Windows, Linux or Mac). Command Center allows you to improve worker and driver safety, limit liability, and make more efficient use of time by organizing and managing your fleet from one central location.
Especially valuable for owners of large fleets of equipment, this software allows you to know exactly where each unit is at any moment. You can also check battery levels, change sign messages or check maintenance records without going on-site.
With Command Center, you can:
Locate each board and panel
Create, delete or change messages
Share messages between units
Broadcast a message to multiple units simultaneously
Segment your fleet: allow access to only those devices that you choose
Maintain a library of messages
Access logs of the messages displayed
Check battery and maintenance records
Test sign panel modules
Adjust settings such as the sign's brightness levels
Create your own graphics and animations
You can segment by job, by type of sign, by location of the sign, and/or by user access. Schedule messages and change messages remotely, and have instant access for emergency messages like Amber Alerts.
You can also control your CMS units from your web-enabled mobile device, such as an iPhone or Blackberry, by turning on the web interface.
Download Command Center Mobile App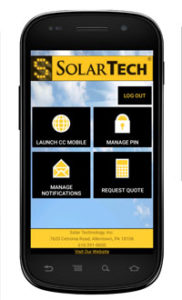 "Command Center Mobile Companion" is a faster way to access the fleet management software included on all SolarTech traffic safety signs. The app enables you to access Command Center using a simple 4-digit pin number, replacing the slower browser-website-username-password login procedure.
The app is free. Here are the links:
Read more on our "Command Center Mobile Companion" blog