2017 – introduces SmartZone (real time workzone ITS software) and Message Boards with Cameras. Adds Remote Communication (embedded modem, GPS and cellular service) to all Arrow Boards
2016 – adds Remote Communication (embedded modem, GPS and cellular service) to all Message Board products and is awarded ISO-9001:2015 Certification
2015 – adds SolarComm Universal (modem with GPS and secure cellular service for use with any manufacturers' NTCIP message board) and battery anti-theft devices to all products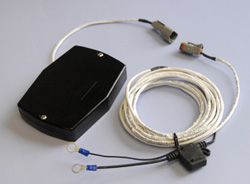 2014 – announces 5 years of Remote Communications  (embedded modem, GPS and cellular service) with all Message Board products, and introduces SolarTrak, a GPS/telemetry Fleet Management solution for construction and rental fleets
2013 – introduces its first solar-powered Light Tower the "Silent Illuminator"
2012 – introduces Radar Speed Trailers "Silent Advisors" (RST-1000 and RST-2000)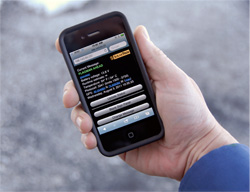 2011 – announces full remote control of all Message Boards via any smart phone
2010 – revises "MegaTech" controller to include an embedded GPS receiver and introduces the smallest Message Board the "Silent Messenger IV".
2009 – increases Warranty coverage to Five Years on all products
2008 – is awarded ISO-9001:2008 Certification.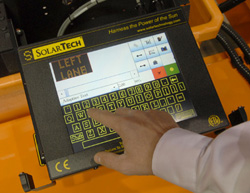 2007 – introduces the industry's first touch-screen controller – the "MegaTech" controller operating "TRAFIX" embedded software with free software updates for life
2006 – upgrades all Arrow and Message Boards to 100% Surface Mounted LEDs for maximum reliability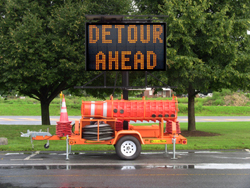 2005 – introduces the Incident Response Trailer (IRT-1548)
2004 – upgrades all Message Boards from 5mm LEDs to higher reliability SuperFlux LEDs
2001 – receives ISO-9001:2000 Certification.
2000 – introduces solar-powered small Full Matrix Message Board the "Silent Messenger III" in both trailer mounted and vehicle mounted configurations
1998 – introduces the first truly solar-powered Full-Sized and Mid-Sized Full Matrix Message Boards the "Silent Messenger" and the "Silent Messenger II"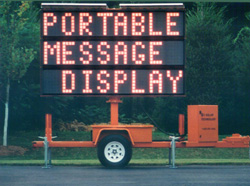 1995 – creates the 3-line 8-character Full-Sized Message Board the "Silent Messenger"
1991 – Solar Technology Inc. is founded and offers the first truly solar-powered Arrow Board the "Silent Sentinel"